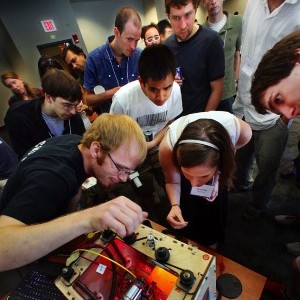 Well I am proud to say that I have completed the one week long intensive Wisconsin Entrepreneurial Bootcamp (WEB) Program. I cannot even begin to explain how invaluable this experience was and am grateful to have such a "once in a lifetime" opportunity. I went into this program not knowing what to expect. I came out knowing more that I could have hoped. I now know what I need to do in case I get that "billion dollar idea" and how I would take it to market.
This program starts out teaching you the basics. How to understanding financing and accounting. How to start new and viable ventures, and create product opportunities. I also learned basic marketing principles and techniques and how to find your target market and conduct crucial market research. What I enjoyed the most (hands down) were the case studies. These 'real life' examples taught me how to apply my current day knowledge if I were in the CEO's shoes, and ask what would I do? If I am faced with certain decisions (and multiple options), what is the next step? Definitely made you think on your feet. And the interactive  classroom was great. I don't think a single person remained quite the entire week, out of a group of ~70 people. Everyone was actively engaged and enthused.
Day 1-3 weren't as in depth as I would have hoped, but Days 4-6 kicked it in and tied everything together. I thoroughly enjoyed the Intellectual Property (Patent Law, Licensing), Business Ethics, How and Where to Obtain Sources of Funding, Biotech Industry Types/Dynamics (By Steve Burrill), How To Effectively Negotiate and Collaborate, and Create a Strong Team Culture (John Morgridge).
What I Learned
Before I came into the program I wrote:
There are numerous questions that remain unanswered. The importance of strategic innovation addresses how innovators get their innovations, how artist get their creative ideas, how visionaries get their visions, or how scientists make their discoveries. Yet going further, how does one develop a strategic innovation? How does an entrepreneur create and implement a successful business plan? What drives the success of such a business plan and what assures that short-term and long-term goals are achieved? How is a quality team of researchers and leaders selected, based on certain criteria that will support and drive the success of a company? How do you weigh and assess products, competition, and the market for potential start-up ideas? Where does grant money, accounting, investors, venture capitalists, privatized funding, and financial analysis come into play? What does it actually mean to be called an "entrepreneur" in the life science field? How do you know if a good idea is worth pursuing, when in fact it could be perceived as a "good" idea that won't bring anything beneficial or profitable to the market? How does a person make the creative leap to come up with something new and valuable? Addressing these questions would be very beneficial for someone in my current position. I feel that my interest in the Wisconsin Entrepreneurial Bootcamp not only stems from my past and present day experiences, but my drive to excel and succeed in everything that I do.
All of the above questions have been answered all within one week. I am confident more than ever and look forward to possibly starting my own company someday. Now all I need is the idea…